Just a couple of pictures to Tyler and his team. He is playing for the Fountain City Rockies. He played T-ball with this team, left for a full season and then returned to play coach pitch. We love his coach, Jeff. Actually, all the coaches and helpers are so great! Everyone's motto is that the boys have fun (learn a little too)!!!
Tyler is the far one on the left. Tyler, Daniel, Austin and Tucker.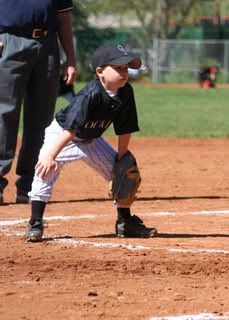 What teamwork!! Jeff gives a great rally at the end of each game-win or lose. I think this is a great picture of the team-not sure where Tyler is but....